Prime Minister's Awards - 2016 Winners
IPAA ACT congratulates the winners of the 2016 Prime Minister's Awards for Excellence in Public Sector Management.
| | |
| --- | --- |
| Gold | Australian Government, Australian Taxation Office | SuperStream Initiative |
| Silver | New South Wales Government, Sydney Local Health District | Electronic Medication Management at Concord Hospital |
| Silver | Tasmanian Government, Department of Education | Implementing Child and Family Centres in Tasmania |
| Commendation | Australian Government, Fair Work Ombudsman | Online Learning Centre |
| Commendation | Australian Government, Department of Human Services | It's time to say enough – the DHS Family and Domestic Violence Strategy |
Further information on the Gold and Silver winners, including judging comments, is available in the side-bar links. The 2016 Winners and Nominations booklet will be available on this page in the coming week.

Run annually by the Institute of Public Administration Australia (IPAA) ACT Division, the 2016 Prime Minister's Awards were presented by Senator the Hon Arthur Sinodinos AO at a ceremony at the National Portrait Gallery in Canberra on Wednesday 9 November 2016. The Awards ceremony was followed by an Opening Reception for IPAA ACT's 2016 Conference: Public Service: Thinking Big.

Now in their 15th year, the Prime Minister's Awards for Excellence provide an opportunity to celebrate the achievements of many areas of public service that make a difference, improve outcomes and services, cut red tape and champion leadership. They are designed to honour the achievements of public sector work groups, units and teams rather than individuals. There was no innovation award recognised this year, due in part to IPAA's recent launch of the inaugural Public Sector Innovation Awards, in partnership with the Public Sector Innovation Network.
Nominations
21 nominations were received from across Australia including Commonwealth, State and Territory agencies, with particularly strong interest from the Commonwealth. Nominations covered a wide variety of areas including health, education, social services, the environment and employment. The award for the Tasmanian Department of Education is notable due to their Gold Award in 2015, resulting in two successive awards for the same department in a small jurisdiction. A full list of nominees can be accessed from the side-bar links.
Judges and Assessors
The Awards were assessed and short-listed by a team of assessors from across the public sector, several of whom were recognised on the night for their tenure as assessors. A panel of five judges, comprising former senior public servants and academics, then decided the winning entries. The team of five judges, all former senior public servants or academics, are:
Carmel McGregor PSM FIPAA – former Deputy Secretary at the Department of Defence and Deputy President of IPAA ACT
Andrew Metcalfe AO – former Secretary of the Department of Agriculture and former IPAA ACT President
Ian McPhee AO PSM – former Auditor-General and former IPAA ACT President
Professor Mark Evans – head of the Institute for Governance and Policy Analysis at the University of Canberra and IPAA ACT Council member, and
Ann Steward PSM – former Australian Government CIO and long term IPAA supporter.
Photos
A few select photos from the event are now available. To obtain copies, please contact the IPAA office.

Gold Award Winner - Australian Government, Australian Taxation Office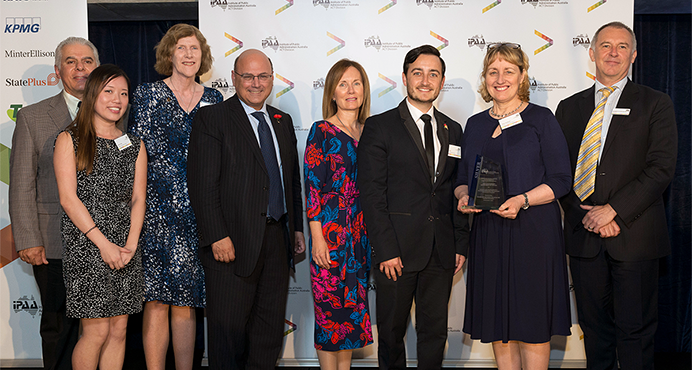 Silver Award Winner - NSW Government, Sydney Local Health District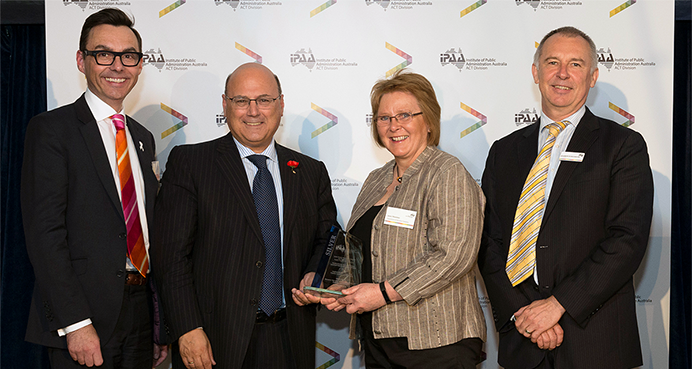 Silver Award Winner - Tasmanian Government, Department of Education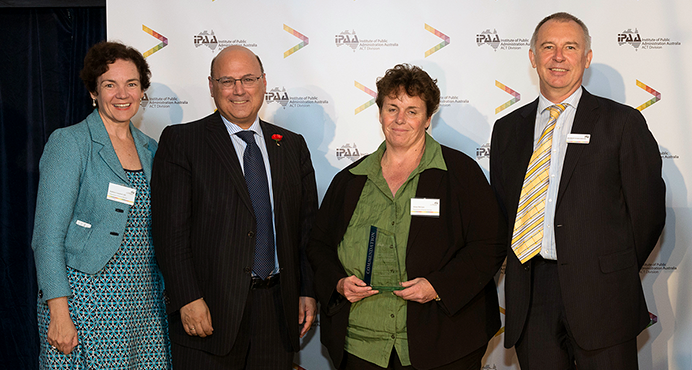 Commendation - Australian Government, Department of Human Services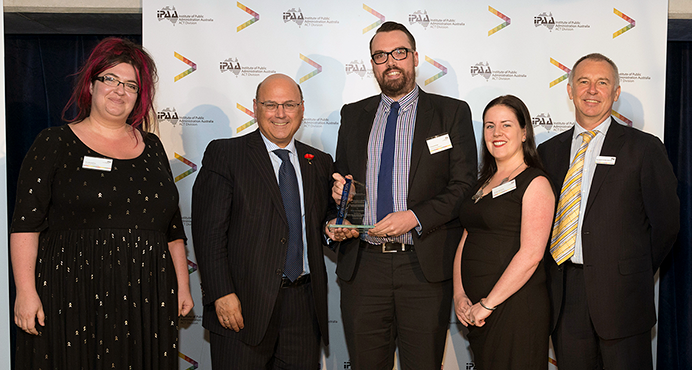 Commendation - Australian Government, Fair Work Ombudsman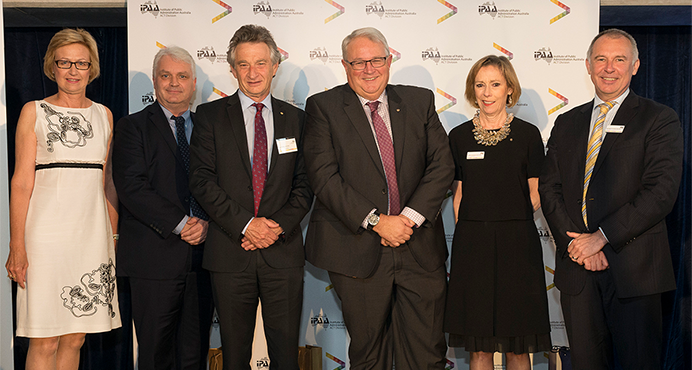 Judging Panel - Ann Steward PSM, Professor Mark Evans, Ian McPhee AO PSM, Andrew Metcalfe AO, Carmel McGregor PSM, with host Dr Gordon de Brouwer PSM